Title:
Forever Home

Series:
Amish Dreams on Prince Edward Island #1

Author:
Amy Grochowski

Publisher:
Ambassador International

Release Date:
June 9, 2020

Genre:
Inspirational Amish Romance
A Canadian Amish farmer
A Lancaster Amish businesswoman
A Prince Edward Island foster child
Providence brings together a mismatched family, giving all three a second chance for love. Only love may never have had such a tough job.
Lydia Miller is an anomaly among her Amish people-a single woman in her 30s, running her own store, determined to forge a life on her own. But when Joel Yoder comes into town to sell his property, Lydia suddenly finds all of her hopes and dreams crumbling around her and a new opportunity placed in her lap.
Joel has his own problems. Recently jilted by his fiancée, Joel has seen his own dreams of moving to a newly established Amish community begin to falter. The new community welcomes married couples only. With his dreams quickly slipping from his fingers, Joel suddenly sees the only option he thinks he has--a marriage of convenience for both of them.
As the new couple begins life in a new settlement, they are even more surprised when a foster child in need of a home finds her way to them. Yet what will happen when the English world and the Amish world collide?


About The Author
Amy Grochowski's deep appreciation for the Amish faith and way of life stems from six years of living and working with a Beachy Amish family, as well as her own Anabaptist roots. Her debut novel, Forever Home, was a pre-published winner of Romance Writers of America's Maggie Award and a semi-finalist in ACFW's Genesis Contest. She is a member of ACFW and Word Weavers Int'l.
Amy spent her childhood in Melbourne, Australia, where her parents worked as church planters. After returning to the States, the Blue Ridge Mountains of Southwest Virginia became home. Her real-life romance began on a travel nursing assignment to Pittsburgh, Pennsylvania where she met her husband, David.
After a nursing career of more than twenty years, Amy is now fulfilling her long-awaited dream career as an author of inspirational romance. She is also a full-time homeschool mom for her two boys, one of whom has Autism Spectrum Disorder, and lives with her family in the bustling foothills of North Carolina.
My Thoughts
This is the first book that I have read by this author. I look forward to reading more from her. This book is the first in the Amish of Price Edward Island series. The author has written some amazing, unique characters, with a beautifully written story line. I love marriage of convenience stories.
This one, however shows that you should always be honest with your spouse. Lydia and Joel enter into their marriage holding back secrets. Which can get you tangled up. They do learn to trust each other.
They also become foster parents to a English child with Autism. Lydia and Joel fall in love with this sweet child -and want to adopt her - however will their pasts hurt them?
I loved this story. It is a story of ultimate trust of God and forgiveness. It is well written and leaves you wanting to read more of the characters.
I received a copy of this book through the JustRead program -- all thoughts are my own.
GIVEAWAY TIME!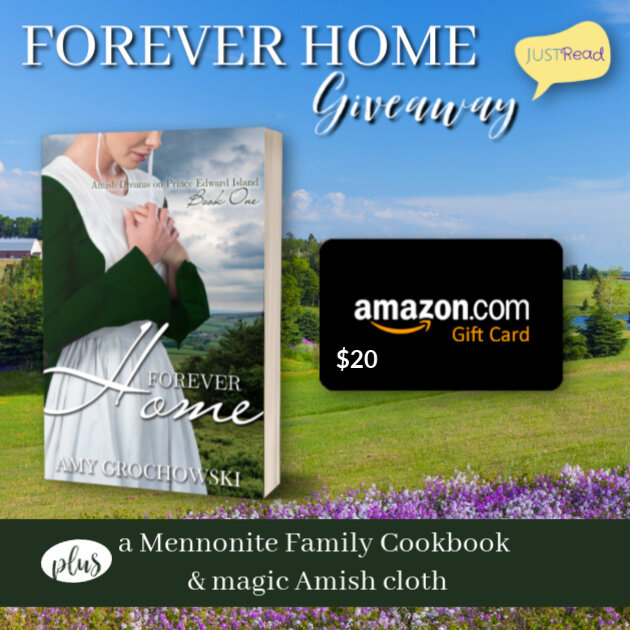 1) winner will receive a signed author copy of Forever Home, a classic 200 recipe Mennonite Family Cookbook, a Magic Amish cloth (it really does clean like magic with no chemicals), and a $25 Amazon gift card!
Be sure to check out each stop on the tour for more chances to win. Full tour schedule linked below. Giveaway will begin at midnight June 22, 2020 and last through 11:59 PM EST on June 29, 2020. Winner will be notified within 2 weeks of close of the giveaway and given 48 hours to respond or risk forfeiture of prize. Void where prohibited by law or logistics.
Giveaway is subject to the policies found here.