Book Review: The Crow's Call (Amish Greenhouse Mystery #1) by Wanda E. Brunstetter
Hey guys! Happy March - it has certainly come in like a Lion as the old saying goes --- let's hope that it goes out like a lamb!!!
One of my ALL TIME FAVORITE Authors has a new book out.
Wanda Brunstetter has started a new series -- and I was blessed to be able to read book #1.
As you may know, Wanda Brunstetter was one of the FIRST authors I found when I switched to mainly Christian books.
Here is a description of the book:
Mysterious Events Plague a Greenhouse in Pennsylvania's Amish Country
When Vernon King, his son, and son-in-law are involved in a terrible accident, three women are left to cope with their deaths, as they become the sole providers of the family they have left. The women's only income must come from the family greenhouse, but someone seems to be trying to force them out of business.
Amy King has just lost her father and brother, and her mother needs her to help run the family's greenhouse. It doesn't seem fair to ask her to leave a job she loves, when there is still a sister and brother to help. But Sylvia is also grieving for her husband while left to raise three children, and Henry, just out of school, is saddled with all the jobs his father and older brother used to do. As Amy assumes her new role, she also asks Jared Riehl to put their courtship on hold. When things become even more stressful at the greenhouse, will Amy crumble under the pressure?
Here is some about the author if you are not familiar with her: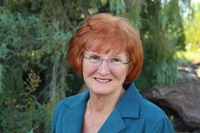 New York Times bestselling and award-winning author, Wanda E. Brunstetter is one of the founders of the Amish fiction genre. She has written close to 90 books translated in four languages. With over 10 million copies sold, Wanda's stories consistently earn spots on the nations most prestigious bestseller lists and have received numerous awards.
Wanda's ancestors were part of the Anabaptist faith, and her novels are based on personal research intended to accurately portray the Amish way of life. Her books are well-read and trusted by many Amish, who credit her for giving readers a deeper understanding of the people and their customs.
When Wanda visits her Amish friends, she finds herself drawn to their peaceful lifestyle, sincerity, and close family ties. Wanda enjoys photography, ventriloquism, gardening, bird-watching, beachcombing, and spending time with her family. She and her husband, Richard, have been blessed with two grown children, six grandchildren, and two great-grandchildren.
To learn more about Wanda, visit her website at
www.wandabrunstetter.com
.
MY THOUGHTS
This is book one in a new series for the author. The series is entitled: Amish Greenhouse Mystery. It is a different style and writing for the author -- but as always --- she does not disappoint.
This is not your typical Amish Fiction book -- however it is a Amish mystery with suspense in it.
One of my favorite things about this author is how she writes REAL characters. Characters that have flaws, characters that have pain. I love that people can relate to the characters. If you have read Wanda's Prayer Jar series, you may recognize some of the characters. W
e meet up with Michelle and Ezekiel once again. In the midst of an unspeakable tragedy -- the author creates a story that shows that no matter what you can hope and trust in our God. I could not put this book down! If you are running out of things to read - try and get a copy of this book.
I received a copy of this book through the author and publisher --- all thoughts are my own.